Filter by Category
History
Valley History: Surveyors
with Joe Hickey

Next available session starts Nov 3, 2022 at 7 pm
What's the second biggest thing to ever happen in the West next to the Continental Railroad? Joe V. Hickey shares the answer in how the American Surveyors tamed the West measurement by measurement as they surveyed the land by hand using chains, solar compasses, and rock pile markers. Some of these piles are still in existence today! Children between the ages of 8 and 12 are welcome to enroll when accompanied by an enrolled adult.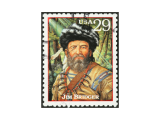 Bridge of the West: Fort Bridger's Role in Connecting the West
with Joshua Camp
A walk-through Fort Bridger's effects on US History. I often refer to Fort Bridger as the "Forrest Gump" of US historic sites. In this course we will cover some of the massive and history changing events and people tied to Fort Bridger. Join us on site to get up close and personal with the history, as we explore the artifacts and locations tied to these stories. Ages 12+.