Filter by Category
Interests & Hobbies
Adult Ceramics
with Shanoa Gardiner

Next session starts Sep 17, 2019 at 7 pm
Whether you are a total beginner or an experienced potter – you are welcome to come enjoy, learn and create! Students will learn to center pottery on the wheel among other things. Bring a friend and come create some unique pieces of pottery! Completed projects will be fired and glazed. A 25-pound bag of clay will be provided for each student. Additional clay may be purchased for $20 a bag at the class.
Full Course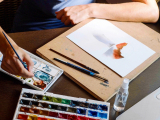 Watercolor Painting
with Shanoa Gardiner

Next session starts Oct 10, 2019 at 7 pm
NEW DATES: Oct 10, Oct 24, Nov 7 and Nov 14.  This class is 4 sessions for Beginner-intermediate painters. Those with little to no experience in watercolor. This course will focus on getting comfortable with watercolor painting techniques and enjoying the process of painting. The basics of materials, tools, techniques, color, value, and composition will be explored. The class is designed to be fun and inspirational and will focus on how to relax and enjoy the process of painting. All materials included.