Filter by Category
Time & Money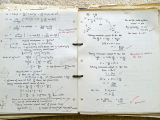 Registration Unavailable
Math Tutoring
Price not
available
with Staff Staff
A little help please? Yes! Valley Learning Center offers one on one math tutoring. Please call to make an appointment at 307-782-6401.
Spring 2021 Catalog
If you would like to browse our catalog, please complete this registration the same way you would for a class and we will email you a catalog pdf in your registration confirmation for free. For any questions, you are always welcome to stop in at our main office at 219 1st Street, Mountain View, Wyoming, or to call or text at 307.747.1712.
Registration Unavailable
HiSET & GED Prep Class
Price not
available
with Amy Jensen
Ready for a better job? Have dreams of college but didn't graduate high school? We can help! Valley Learning Center offers FREE HiSet and GED preparation classes for all individuals 16 and up who are not currently enrolled in high school. Our classes are small and highly individualized with plenty of one on one instruction. Let the Valley Learning Center help you pave the way to a brighter future. Start earning your High School Equivalency Diploma today! Come by or call us at 307-782-6401.