Filter by Category
Discover
Adult Ceramics
with Shanoa Gardiner

Next session starts Mar 27, 2019 at 7 pm

, runs for 6 weeks
Whether you are a total beginner or an experienced potter – you are welcome to come enjoy, learn and create! Students will learn to center pottery on the wheel among other things. Bring a friend and come create some unique pieces of pottery! Completed projects will be fired and glazed. A 25-pound bag of clay will be provided for each student. Additional clay may be purchased for $20 a bag at the class.
Full Course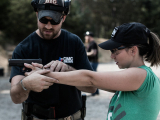 Concealed Carry for Utah and Wyoming
with Spence Bentley

Next session starts Mar 30, 2019 at 9 am

, runs for 1 week
1 additional session on May 4, 2019
The Concealed Carry Plus course is the True North Strategic Concealed Carry Class. We believe in putting assets on the street and that the minimum required by the state is not enough to make you an asset. In this course we will cover the laws pertaining to carrying and using a firearm for self defense and the use of deadly force in the classroom. Then we will go to the range and build a solid defensive shooting foundation for you to build on with further training. This course was developed to fill the void in training between the state minimum training, and becoming a confident armed citizen. Age required: Must be within 1 year of your 21st birthday or older. Please be aware class dates/schedule may be changed due to weather.
Craft Night
with Lynlee Stierle

Next session starts Apr 12, 2019 at 6 pm

, runs for 1 week
We will be doing a fun, farmhouse inspired wood craft. Come paint, nail, and put together a great décor piece for your home! All materials will be provided at the class. Adults only.