Filter by Category
Computers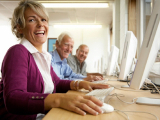 Online Registration Unavailable
Basic Computer Concepts
with Staff Staff

Current session started Dec 1, 2021 at 10 am
This class will introduce basic concepts in computer and information technology, including hardware, software, and the internet. Students will learn how a computer works, data measurement, how to use email, download files, and how to use the operating system on their computer to perform basic file management. Skills learned in this class will include: copying, moving, and deleting files; creating folders and compressing folders; and printing your screen.
Sneak Peek at Online College Classes
with Angelica Mecham
Want to see how online classes work? Or just want help to make sure you're ready to start your distance learning online college class? We'll help you with log-in to your MyWestern account, become familiar with all the services found there, and give you an overview of Canvas - the online classroom for internet courses where the teacher and students interact. For more information, call 307-782-6401 or email amecham@westernwyoming.edu.