Filter by Category
Technology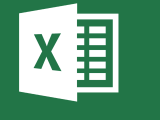 Excel 2016 Basics
with Shane Hooton

Nov 6, 2017 at 7 pm
This hands-on, instructor led course will guide you through the basics of this popular spreadsheet program. You'll begin by exploring the core features and tools in Excel 2016. You will discuss & practice basic Excel skills, including creating spreadsheets and working with standard formulas and functions. Saving and printing spreadsheets will also be covered.
iPhone Help
with Shane Hooton

Nov 7, 2017 at 7 pm
NEW DATE-November 7th! Bring your iPhone to class and your questions. You'll learn tips on how to use some of the basic features and how to try some things you didn't know. We'll talk about care and maintenance issues, memory and how it works, explain iCloud, accounts vs. contacts and how to stop the duplications, what security is on your phone and even just teach you how to take a screenshot. Bring a friend and come have some phone fun!
Registration Unavailable
Social Media for Parents
with Cal Davis

Oct 17, 2017 at 6 pm
Teens text, tweet, snap, and post like crazy. In fact, about half of teens use social media every day, and for some, this means checking Facebook, Instagram, or Snapchat dozens (or even hundreds!) of times a day. If you're a parent and have no idea what any of that means, you need this class. We'll teach you what all these apps are and how to ensure your children's safety while using them. Even if you're a social media guru, you may just learn a few things you didn't know—but that your kids probably do.