Filter by Category
Technology
Basic Computer Concepts
with Staff Staff
This class will introduce basic concepts in computer and information technology, including hardware, software, and the internet. Students will learn how a computer works, data measurement, how to use email, download files, and how to use the operating system on their computer to perform basic file management. Skills learned in this class will include: copying, moving, and deleting files; creating folders and compressing folders; and printing your screen. Call VLC for next start date: 307-747-4715.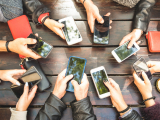 There's an App for That!
with David Ricley
Congrats! You've mastered taking photos with your smartphone. Want to learn how to share, store and manage those precious moments with friends and family? Have you thought of your smartphone as a resource for maintaining a healthy lifestyle? Everyone knows how important it is; but did you know there are many tools out there that can help you track and plan your diet and exercise? How about mobile banking? Have you ever been away from home needing to pay a bill, check a balance or deposit a check? You guessed it – you can take care of that right on your smartphone with the same safety and security as doing it from home. Join Union at Valley Learning Center for 'There's an App for That!' and find out how quick, simple, and satisfying it is to be able to take care of these tasks and more from the convenience of your smartphone. Pizza, refreshments & snacks will be provided, as will plenty of time for individual Q&A if you're curious about certain applications or smartphone functions. We look forward to seeing you!  ***Please call for next class date 307-782-6401.
Coding for Kids
with Tera Gilbertson
Most of the objects we use today are powered by code. But how does code work? And why has coding become such an important skill? Come to class and learn about the language powering so much of our tech. Students will learn to make a GIF, and how to use coding and math to create digital projects from angles, and have some fun! Coding is for anyone who is curious, and is interested in more than just programming. Studies show it teaches kids logical thinking and problem solving. Kids who learn to code become more creative and gain confidence by tackling problems by themselves. Coding teaches kids to be creative. They can make, break and fix anything they want. For ages 9-11. Call VLC for start date 307-782-6401.